Normosol-R 1-Liter Bags


You can add your prescription information in your cart before checkout process.
We currently ship prescription items to all states except: MI.
Normosol-R is used for the treatment of dehydration and electrolyte depletion in animals.
Regular price
$11.49 USD
Sale price
$9.95 USD
Unit price
per
SKU: 409796709
Shipping & Returns
Share
We currently ship prescription items to all states except: MI.
Normosol-R is used for the treatment of dehydration and electrolyte depletion in animals. Compared to Lactated Ringers Solution, Normosol has more potassium and less calcium (none in this case). Therefore, Normosol is a good option for pets with hypercalcemia (elevated calcium). There are 2 different pH for this fluid- 6.6 and 7.4. Normosol-R 7.4pH is equivalent to PlasmaLyte A. Please select the appropriate pH when ordering- 6.6 is "regular" Normosol.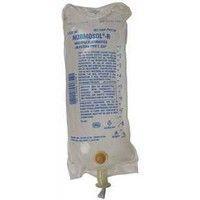 Shipping & Returns
Delivery & Return
The cutoff time for same day shipping is 2:00 pm mountain time each day.
We work hard to keep shipping affordable by providing a variety of options, extending to you our volume-discounted shipping rates, and charging a modest handling fee of $1/order to cover packaging and handling.

USPS First Class Mail, when available, will generally provide you with the best value. First Class Mail is an air service and is very reasonably priced. Please note that the Postal Service does not guarantee delivery times for First Class Mail but estimates 2-5 delivery days.


Return Policy
Your satisfaction is our first priority. If you aren't 100% satisfied with your purchase, you may return the items you ordered at any time up to 30 days from the date of purchase.

The cost of return shipping is the purchaser's responsibility.

We cannot accept returns or exchanges on prescription products by law. ThrivingPets will be happy to replace any medication you received that is incorrect or damaged. We may provide a refund or credit toward a future order on a case-by-case basis.
They were great! Quick to respond and very polite
Don't be afraid to administer Sub-Q fluids to your kitty!
When my vet initially introduced me to the plan for me to administer Sub-Q fluids to my aging kitty, I was reluctant and afraid I would not be able to do it properly. After a quick ""lesson"" in the vet's office, I felt ready to do this at home. I would encourage anyone who is worried about doing this prodecure to just try it, because it really is not difficult at all, there is no pain for your pet, and you get a good feeling that you are doing all you can to help your pet feel better.I purchased a case of Normosol-R bags (plus needles and IV Admin. Sets). My vet faxed the prescription and I had my order within a couple of days. This was easy! Savings were dramatic!We lost our big boy Steve a few weeks ago due to his Chronic Renal Failure. He was almost 16 and was diagnosed about a year and a half ago. He was a very good patient in accepting all his meds and Sub-Q treatments! I bonded with him so much during these procedures and would encourage other pet owners not to be afraid to learn how to administer fluids. Usually he would purr as I pet him during the process, so I know he was not uncomfortable at all.""
Normosol-R
This is my third order for Normosol-R. Only thing to caution you on is to make sure the pH is the correct one ... double check first with your vet to make sure!
Normosol great stuff. Not just for CRF kitties.
I started using Normosol when my Dylan was disagnosed with CRF. He passed away in 2008. Once again my Normosol has saved the life of any kitten. Harper D. developed pneumonia. I am currently unemployed and have limited vet funds. It was my home care and fluids that helped save his life. I was recommended Normosol by my CRF group friends.
Long term SC fluid use
We have been giving our kitty Normosol for over 12 years; she want into acute renal failure at the age of 2.5 years (she had a congenital anomaly with one tiny/non-functioning kidney and the other one had a stone in the ureter). Her BUN/Creatinine were off the charts. Daily SC fluids saved her life and she tolerates them very well. Do not be afraid to administer fluids - the cats are used to their neck being scruffed by their mama....just warm the fluids/tubing in a sink of warm water first - makes it much more tolerable for the cat.
OVER 2,000 PRESCRIPTION AND OVER-THE-COUNTER PET PRODUCTS. BEST PRICES.
ThrivingPets is a US pet medication supplier serving pet families since 2006. We're your home for all the veterinary medications and supplies you need. We compound medications and supply over the counter and prescription medications and medical supplies straight to your home. We have everything your pet needs at amazing prices, every day. And with AutoShip & Save, we are making it even easier to help your pet thrive with convenient, automatic deliveries. Depend on ThrivingPets for the most reliable and up-to-date information on chronic conditions, a full range of products for your pet in stock and ready to ship, and the best value on every medication your pet needs. We love pets and we love to see them thrive.